feature
i am a ... factory coordinator
Chevron produces energy to meet the world's needs, but Chevron itself is a product of its workforce and ingenuity. The "Day in the Life" series showcases that ingenuity, our Human Energy, at work across the breadth of our businesses. Through this series, we highlight the people who make our company unique, as they give us an insider's look at their work days and share a bit about their lives at Chevron.
day in the life: factory coordinator
In this episode of the "Day in the Life" series, Colter Morgan explains how being a factory coordinator supports our Permian Basin shale and unconventional operations.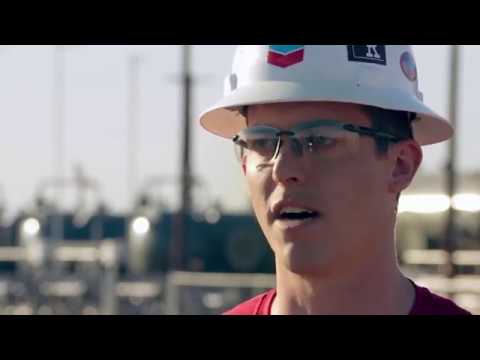 Growing up in West Texas, Colter Morgan felt the oil industry was in his blood. After majoring in petroleum engineering at Tulsa University, he joined Chevron and was excited to be assigned back home to Midland – and to our thriving shale and unconventional oil and gas operations in the Permian Basin.
chevron in the permian basin
achieving "best in basin" through scale, ingenuity and efficiency.
He explains that his job as factory coordinator in the Permian Basin "may not look like a factory, but we're continuously developing well after well here in the Permian, and we use that term because it describes the consistent, safe and repeatable processes that we're going to use to develop the asset base."
Being a factory coordinator entails developing a well from a plan on a piece of paper to an actual producing well in the field. Morgan explains that in his current role, as opposed to a typical engineering function, "I spend 60 percent plus of my time out in the field and one of the most important lessons I've learned is that you just can never discount the opinion of the person who is actually looking at the issue right in the face."
His favorite experience? He calls it "a ton of fun" to help solve someone else's problem. "Those are good days for me."
"I love working out here. I love partnering with the community and with the people out here, because they really understand what oil and gas means not just to this community, but to society as a whole."