video
i am ...
a nondestructive
examination expert
Chevron produces energy to meet the world's needs, but Chevron itself is a product of its workforce and ingenuity. The "Day in the Life" series showcases that ingenuity, our Human Energy, at work across the breadth of our businesses. Through this series, we highlight the people that make our company unique, as they give us an insider's look at their work days and share a bit about their lives at Chevron.
day in the life: nondestructive examination expert
Mauricio Calva, a nondestructive examination expert for Chevron Energy Technology Company, shows us how inspection technology is changing real-life scenarios.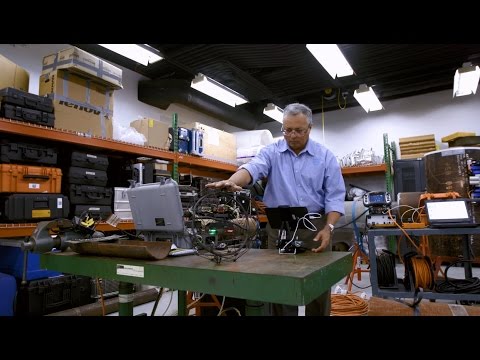 The saying "wear more than one hat" is true for Mauricio Calva, especially when one of those hats is a hard hat. Mauricio is a nondestructive examination expert for Chevron Energy Technology Company, and his work day can either have him in an office reviewing inspection procedures, in a lab inspecting equipment, or climbing a ladder to test new inspection techniques in real-life scenarios. Nondestructive Examination (NDE) allows our people in the field to examine or test a piece of equipment either while in service or during maintenance activity.
"There is something special about inspection technology. You deal with advanced science and then get to go out on the field to make sure what you are thinking really works."
Mauricio is originally from Mexico City where he began his career designing refineries, and evaluating inspections. His father is a chemical engineer, so the energy field was not new to Mauricio, but he decided to take a detour into inspection technology. His life in inspection services has had him venture into many places few people can say they have been, in front of a nuclear reactor, in a submarine and even on restricted areas of bridges and airplanes.
When Mauricio joined Chevron, his first impression of the company was how easy it was for people to come together, express their opinions and cooperate to get the best outcome.
One of Mauricio's favorite aspects of his job is working with companies that haven't previously thought of the application of emerging technologies in the oil and gas space, and convincing them that the industry has a need to adopt new technologies. Such is the case with robotics. Robots evolved quickly in the manufacturing industry, but the use of robotics in oil and gas was needed to help avoid sending a person into a confined or elevated space for inspections. For this type of work, the learning never stops. Every other week there is a new piece of equipment, a new piece of software or a new way of analysis that keeps the work interesting. Mauricio's lab is a place where he can imagine all sorts of technologies that are available for the industry, and how to adopt those technologies to the company's needs. His work also allows Mauricio and his team to encourage developers and technology integrators to think outside of the box when it comes to collaborating with a company like Chevron.
"We serve as an interface between planning inspection and using the information from inspection to make decisions."
From robots to drones, Mauricio's lab is not what you'd expect at an oil and gas company. As Mauricio says "in this lab, we have all sorts of toys," but these "toys" have a very important mission – to test technologies, establish the limits of their capabilities, and clearly understand how to use this technology in our inspections to keep people safe and to maintain asset integrity.
"We need to be the leaders in technology development. A very large part of the success of our company is because we understand technology. And we understand how technology is helping us to be better, and to be safer, and to do things the right way."