feature

i am ...
a petroleum engineer
Chevron produces energy to meet the world's needs, but the company itself is a product of its workforce and ingenuity. The "Day in the Life" series showcases that ingenuity, our Human Energy, at work across the breadth of our businesses. Through this series, we highlight the people who make our company unique, as they give us an insider's look at their work days and share a bit about their lives at Chevron.
day in the life:
petroleum engineer
In this episode of our "Day in the Life" series, Eka Pramana, a petroleum engineer, explains his role in delivering energy to Indonesia.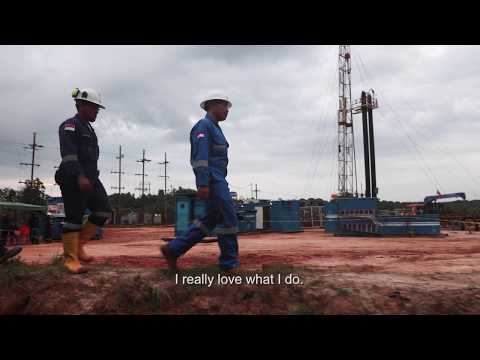 Eka Pramana, a father of three, grew up in a small farming community in Sumatra, Indonesia. His hometown had limited access to electricity. Now as a petroleum engineer with PT Chevron Pacific Indonesia (PT CPI), Pramana is proud to be part of a company that delivers energy to people in his hometown and across Indonesia.
Pramana is part of a team that manages onshore oil fields in Sumatra to deliver optimal production. Working in the Integrated Optimization Decision Support Center, or IODSC, he collaborates with professionals from many disciplines to improve execution efficiency and reduce cost.
The history of Sumatra's oil operations dates to 1924, growing to account for more than half of Indonesia's total crude output by the 1960s. Today, the Rokan block in Sumatra remains a major contributor to Indonesia's economy. PT CPI produces oil and gas in Rokan as a contractor to the Indonesian government.
Currently, PT CPI manages for the Indonesia government about 80 production fields with more than 10,000 active wells, about 13,000 km of pipelines and 3,000 km of powerlines in the Rokan block. PT CPI continues to implement projects designed to sustain production, increase recovery and improve reliability and efficiency from existing reservoirs, including through water-flooding, steam-flooding, and eliminating produced water discharge.