video
i am ...
a power solutions engineer
Chevron produces energy to meet the world's needs, but Chevron itself is a product of its workforce and ingenuity. The "Day in the Life" series showcases that ingenuity, our Human Energy, at work across the breadth of our businesses. Through this series, we highlight the people that make our company unique, as they give us an insider's look at their work days and share a bit about their lives at Chevron.
day in the life: power solutions engineer
Roger Cooper, a power solutions engineer, maintains engines that are providing power for Chevron's operations around the world to produce oil and natural gas.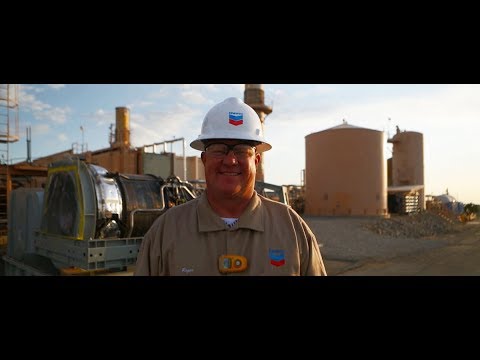 At 14 years of age, Roger Cooper worked for an aviation company as a janitor. An executive corporate jet was being maintained onsite daily. This aircraft piqued his love and passion for gas turbine engine technology. From there, he went to the Air Force and later a career with the airline industry, in the propulsion engineering office.
Roger's career in the aviation industry lasted more than 35 years before he brought his talents to Chevron.
"The same jet engine on airplanes that fly passengers around the world every day, power Upstream and Downstream operations. Very exciting technology in these engines. State of the art."
As part of the Chevron Power and Energy Management team, Roger assists business units operating gas turbines with management of their engine fleet, which entails oversight with the overhauls of the engines, the onsite periodic troubleshooting and maintenance, fleet reliability metrics, as well as the maintenance planning and execution of the engines.
These engines are providing power for Chevron's operations around the world to produce oil and natural gas.
The energy industry and the airline industry cross over in leveraging airline industry safety rules and certification policies, both in periodic maintenance and overhaul, and in repair and maintenance practices of gas turbine engines.
"We all share the same goals for engine performance – the commitment to help with reliability."
The gas turbines that Roger helps maintain at Chevron are a very large part of the national energy production on the different grids across the world. As power production companies move away from coal and other types of fuels and move into the natural gas spectrum to develop power, there are more and more aeroderivative gas turbine engines driving generators, at different electric producers, to produce power for the United States. It's very similar in Chevron production facilities, in that gas turbines and generators develop power for production facilities
"These gas turbines can generate as much as 100 megawatts of power per engine. They are very efficient, very reliable and can develop a very large amount of power for our operations."
Roger enjoys the technical challenges of operating these engines, and troubleshooting the anomalies. As he says, "Each engine has a little bit of a personality, each one is different. Keeping their performance at the highest level is what I really enjoy about this job." Fundamentally, it's important to always follow the same processes regardless of which engine it is or where it comes from. Each engine is cleaned, inspected, repaired, re-inspected, reassembled, and then tested to make sure it meets the build specification requirements.
"The hands-on part is the fundamental engineer in me and what I love to do."