video
i am...
a process control engineer
Chevron produces energy to meet the world's needs, but Chevron itself is a product of its workforce and ingenuity. The "Day in the Life" series showcases that ingenuity, our Human Energy, at work across the breadth of our businesses. Through this series, we highlight the people that make our company unique, as they give us an insider's look at their work days and share a bit about their lives at Chevron.
day in the life: process control engineer
Kaylin Buscovich, a process control engineer, takes us through her day of helping maintain and operate Chevron facilities.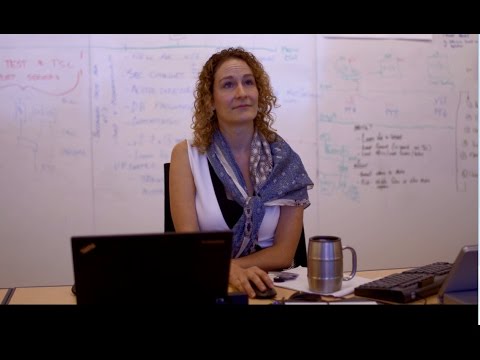 Kaylin Buscovich wanted to be an astronaut on the International Space Station, but the love of chemistry and problem solving made her a perfect fit for engineering.
Kaylin is a process control engineer for Chevron Energy Technology Company in Houston, Texas. Her primary responsibility is for the upstream and midstream businesses – generally crude production and liquefied natural gas (LNG) production and distribution.
Each Chevron facility has a control system, which includes instrumentation, computers and control valves. The job of a process control engineer is to ensure all of these pieces come together to operate the process safely, reliably and profitably.
"Process control is interesting because it is a blended discipline – part science, part art."
To help maintain and operate facilities, Kaylin must ensure the systems and processes are stable. Her role is to help optimize the facilities in real time, using the process control computers, keeping in mind that these operating facilities have varying roles – from controlling what's coming out of the ground, to separating the gas, crude oil and water, to ultimately pushing it out to the pipeline.
One of the things she loves about her job is the variety in duration of projects. For example, Gorgon took years to build, but projects at operating facilities can be implemented in months. Gratification comes when Kaylin has an immediate impact on a facility – things she, in partnership with operations and facilities engineers in the business unit, can do in real time to improve the facility.
"To flip a switch and see it do exactly what it was designed to do – proving that the technology does work, and that it can work in upstream – is immensely satisfying."
To have the opportunity to influence the facility in a positive way and solve a problem, and then see the implementation, is the best feeling for Kaylin. Like most engineers, she enjoys solving problems, especially for other people.
For an energy technology company to constantly evolve is refreshing, and it's this culture of innovation that Kaylin respects most at Chevron. Working with a passionate team on the front end of technology, and not only in a research lab, is what keeps the momentum going.
"Look to where your passion and talent align with the business, as that's where you'll be able to make the greatest impact."