video

i am…
a ship captain
Chevron produces energy to meet the world's needs, but Chevron itself is a product of its workforce and ingenuity. The "Day in the Life" series showcases that ingenuity, our Human Energy, at work across the breadth of our businesses. Through this series, we highlight the people that make our company unique, as they give us an insider's look at their work days and share a bit about their lives at Chevron.
day in the life: ship captain
Captain Robert Serewa takes us aboard the Asia Excellence, one of Chevron's new liquefied natural gas carriers.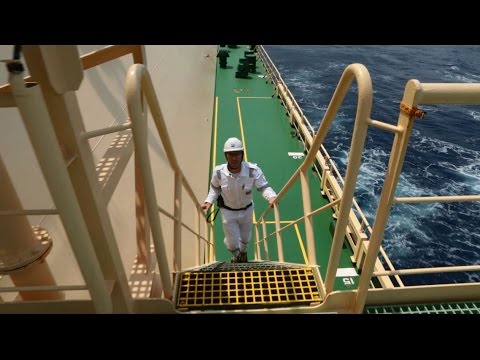 Captain Robert Serewa's affinity for ships started when he was five years old. Maritime careers run in his family; his father is a captain as well. By the time he was 14 years old, he knew the life of a mariner was his future. He has been with Chevron for 11 years.
Now he is at the helm of Asia Excellence, one of six new liquefied natural gas (LNG) carriers that will support Chevron's growing global LNG business. Chevron is nearing completion of the largest shipbuilding and fleet modernization program in recent corporate history with the introduction of 13 new ships to our fleet between 2013 and 2017, including the new LNG carriers. These new and technologically advanced ships were built to transport LNG by sea. Captain Serewa's job is to transport LNG safely and reliably, to help Chevron meet the world's need for energy.
did you know?
Liquefied natural gas (LNG) is natural gas cooled to negative 260 degrees Fahrenheit (-162° C). Liquefaction reduces the volume by approximately 600 times, making it more economical to transport in specially designed LNG carriers.
The life of a seafarer is very different from life ashore. Mariners split their time between their families at home, and their work onboard a ship. With all the time a ship's crew spends together, they often become like a second family to each other while they are onboard. The everyday is still present, from meal times to laundry to going to the gym. As Captain Serewa says, "life continues."
did you know?
Each of the Asia class vessels has 4 cargo tanks, which can hold a total of approximately 160,000 cubic meters of LNG.
Captain Serewa has a personal connection to this ship, as do many of the officers and crew onboard. He has been with this ship from its completion at the shipyard to delivering its first cargo of LNG. Many of the crew have sailed together on previous assignments, and there's a certain comradery that is built from shared experiences.
Keeping Captain Serewa's ship and crew running is a 24/7 operation, as he sees himself as a coach and motivator. As he says, a good captain lets his people bring out the best in themselves.
Published: September 2016