feature

oil: providing energy for progress
The world has produced more than a trillion barrels of crude oil to date. Over the next 30 years, it is estimated that the world will need a trillion more. With this expected demand, oil supply will be needed both from conventional resources and from more complex, technically challenging unconventional resources.
producing oil in the U.S. gulf of mexico
A global team, technology advancements, superior planning and excellent project execution came together to make Jack/St. Malo happen in the deepwater Gulf of Mexico.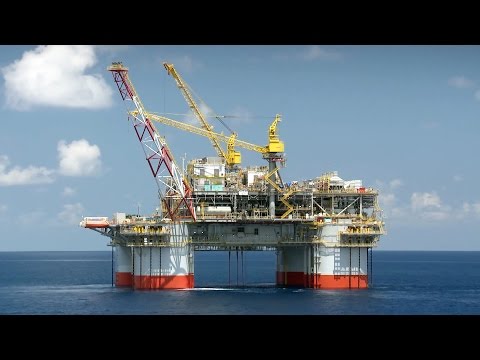 Oil has powered the world in the form of transportation fuels for more than a century, and demand is expected to grow over the long term. According to its New Policies Scenario, the International Energy Agency projects global energy demand to grow by more than 25 percent by 2040. And oil and natural gas are expected to meet the majority of that demand.
what chevron is doing
For nearly 140 years, Chevron has been developing some of the world's most complex crude oil fields. We have a strong position in nearly all of the world's key basins, and our extensive project portfolio provides the foundation for future growth.
We are the largest private producer of oil in Kazakhstan, the top oil producer in Thailand, one of the largest oil producers in Indonesia and the second-largest leaseholder in the U.S. Gulf of Mexico as of the end of 2018.
In 2018, Chevron produced 2.93 million net oil-equivalent barrels per day from operations around the world.
developing energy sources
around the globe
We have numerous major capital projects underway to bring significant new resources to global markets. Our technological capabilities play a pivotal role in making these projects successful and in producing more oil from mature fields.
africa
In Africa, the company is producing and exploring for oil in Angola, Nigeria and the Republic of Congo. Chevron is involved in several projects in different stages of development, including these:
Angola – The Mafumeira Sul Project is part of a continued effort to increase production from the Block 0 concession, offshore Cabinda province. The main production facility for Mafumeira Sul – the second stage of the Mafumeira Field development – came on line in 2017 and continued to ramp up through 2018.
Nigeria – The Agbami Field produced an average 108,000 net barrels of crude oil per day in 2018. The first three phases of development are complete, and additional infill drilling is planned for 2019.
asia and the middle east
Chevron is exploring for or producing oil throughout Asia and the Middle East, including Azerbaijan, China, Indonesia, Kazakhstan, the Partitioned Zone between Kuwait and Saudi Arabia, the Kurdistan Region of Iraq, and Thailand. Major projects include these:
Tengizchevroil Future Growth Project – Wellhead Pressure Management Project (FGP-WPMP), Kazakhstan – Work continues on the next phase of expansion of the Tengiz Field. Using state-of-the-art sour gas injection technology, which was successfully developed and proven during the previous expansion, the FGP is expected to increase total daily crude oil production by 260,000 barrels of oil per day.
Wafra Field Steamflood Project, Partitioned Zone – The Large-Scale Steamflood Pilot Project involves steamflooding in the First Eocene reservoir at the Wafra Field in the Partitioned Zone. The Wafra Steamflood Stage 1 Project is designed for a capacity of 100,000 barrels of crude oil per day. We have finished processing and interpreting data from a 3-D seismic survey covering the entire onshore Partitioned Zone, 1.1 million acres (4,600 sq km) – one of the largest land seismic programs ever undertaken. The project has been deferred pending dispute resolution between Saudi Arabia and Kuwait.
south america
Chevron is producing oil in Argentina, Brazil and Venezuela.
Major projects include these:
El Trapial, Argentina – Chevron has an 85 percent operated interest in the El Trapial concession, which includes Vaca Muerta shale potential. The company began a shale appraisal drilling program in November 2018.
Papa-Terra, Brazil – Chevron has a 37.5 percent nonoperated interest in the Papa-Terra Field. Papa-Terra involves a floating production, storage and offloading vessel and a tension-leg wellhead platform. Production began in early 2015 at this deepwater project, which has a design capacity of 140,000 barrels of oil per day.
Petropiar, Venezuela – Chevron has a 30 percent interest in Petropiar, which operates the onshore Huyapari oil production and upgrading project in the Orinoco Belt, where extra-heavy crude oil is processed and upgraded into lighter, higher-value synthetic oil. In 2018, 64 development wells were drilled, and net daily production averaged 26,000 barrels of liquids.
north america
Chevron's U.S. portfolio encompasses a diversified group of oil-producing assets in the midcontinent region, California and the Gulf of Mexico. Chevron is one of the largest petroleum liquids producers in the United States. In 2018, net oil-equivalent production in the United States accounted for 27 percent of the companywide total.
U.S. Gulf of Mexico – Chevron is one of the top leaseholders in the U.S. Gulf of Mexico. Key producing fields include Jack, St. Malo, Tahiti, Mad Dog, Tubular Bells, Blind Faith, Caesar/Tonga and the Perdido Regional Development. Jack and St. Malo are being developed jointly. Blind Faith and Jack/St. Malo are the company's deepest operated offshore production facilities, at water depths of 7,000 feet (2,134 m). Projects are underway at Jack/St. Malo and Tahiti to expand production. First oil at Big Foot was achieved in November 2018, and ramp-up is expected to continue in 2019.
California, United States – Chevron was one of the top net daily oil-equivalent producers in California in 2018, with heavy oil making up a significant part of production. The company uses steam to increase oil recovery. Our industry-leading expertise in steamflood operations has resulted in more than a 60 percent crude oil recovery rate at the Kern River Field.
Permian Basin of West Texas and southeastern New Mexico – Chevron is one of the largest net acreage leaseholders and producers in the Permian Basin. In 2018, the net unrisked resources from the company's acreage in the Permian Basin were estimated to exceed 16.2 billion barrels of oil-equivalent.
In Canada, Chevron has interests in the Athabasca Oil Sands Project in Alberta and in offshore exploration and development projects in the Atlantic region, and we have discovered resource interests in the Beaufort Sea region of the Northwest Territories. Net daily production in 2018 from Canadian operations was 50,000 barrels of crude oil and 53,000 barrels of synthetic oil from oil sands.
europe
Chevron has interests in offshore producing fields in the United Kingdom and Denmark. The company's operations in the North Sea have a track record of technological innovation, including the application of polymer enhanced oil recovery technology at the Captain Field, the first North Sea field to use this technique.