video

i am ... a chemist

Chevron produces energy to meet the world's needs, but Chevron itself is a product of its workforce and human ingenuity. The "Day in the Life" series showcases how Chevron will lead in the future of energy by curating the best talent to solve the most complex problems. Through this series, we highlight the people that make our company unique, as they give us an insider's look at their work days and share a bit about their lives at Chevron.
day in the life: chemist
Yaya Zhu is a chemist at Chevron's Richmond Technology Center. Her typical day is walking into the lab to find a box containing unknown material from one of our refineries around the world and deciphering its composition to relay back to the engineers.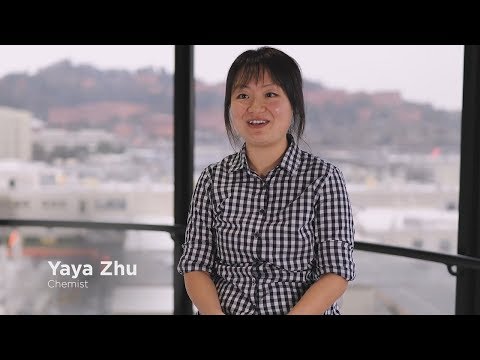 Yaya Zhu majored in chemistry because she loves puzzles. She also majored in marketing because she loves that it requires her to be creative.
After 11 years at Chevron, she finds both those majors work to her benefit especially when communicating with customers who send samples to the Richmond Technology Center (RTC) labs.
Yaya is a chemist at RTC and walking into the lab to find a box with a material sample from one of our refineries around the world is a typical day.
During routine maintenance at a refinery, engineers often find and collect unknown materials and send them to Yaya's lab to decipher their composition.
Yaya runs tests that allow her to understand the most abundant elements in the materials and see the clear diffraction patterns. Based on that information, she can search a database to correctly identify each sample.
Part of the fun of working in the lab is that the materials can be different from request to request, and the creative part kicks in when the request doesn't fall into textbook examples.
Job satisfaction for Yaya is relaying her findings back to the refinery, so that the engineers can use that information to optimize their operations.