video
i am ... a cyber threat
intelligence analyst
Chevron produces energy to meet the world's needs, but Chevron itself is a product of its workforce and ingenuity. The "Day in the Life" series showcases that ingenuity, our Human Energy, at work across the breadth of our businesses. Through this series, we highlight the people that make our company unique, as they give us an insider's look at their work days and share a bit about their lives at Chevron.
day in the life: cyber threat intelligence analyst
Jessica Lee, a cyber threat intelligence analyst, works to protect the information and technology assets in every single country where Chevron does business.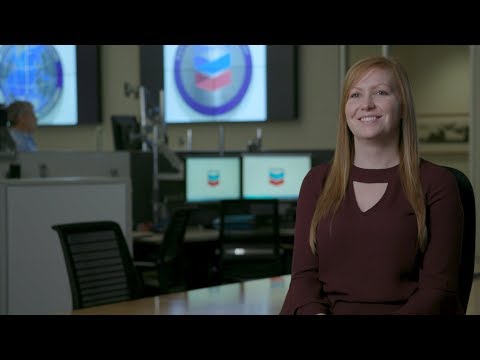 Jessica Lee pursued a degree in linguistics because scrutinizing language and pulling meaning from it beyond what the words say and outside of what is normally communicated in a conversation, fascinated her. It still does.
Jessica joined Chevron as a cyber threat intelligence coordinator where her job was to read and edit reports written by cybersecurity analysts. As she learned more about cybersecurity and got on the job training, her interest in the role of a cyber threat intelligence analyst grew. A big part of her job entails researching and accurately writing about the threats Chevron faces, so the best business decision can be made to keep the company protected.
"It's very exciting to work in this field."
Jessica's team reports on the cyber threats Chevron is facing, and in collaboration with other teams who look at the technology, can understand what's actually feasible to implement and make recommendations.
"We have to be very quick, but we also have to make sure that we're accurate."
One of the biggest challenges of cybersecurity is to stay ahead of the adversary. An adversary's efforts can take the form of attempting to steal confidential data, corrupt data, spoof the identity of a message sender or receiver, or forcing systems and operations to shut down. They are very motivated and Chevron must be even more motivated to stay ahead of the game.
Cybersecurity at Chevron is about keeping our information, operations and our people safe.
Chevron has a global footprint with operations throughout the world. The job is to protect the information and technology assets in every single country where Chevron does business. Since oil drives economies for a lot of different countries, part of Jessica's job is being in the know about anything having to do with oil or natural gas resources, including geopolitical events, which can influence operations.
"I really feel empowered in what I do, I feel like I'm having an impact on the world."